Moore Kenya, Moore HAIR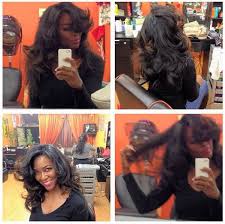 Since the former Miss USA joined the cast of Bravo's hit show, The Real Housewives of Atlanta she has made a complete stir! Whether it's defending, her title or twirling Beyonce style Kenya is a force to be reckoned with.
Most 90's television fans won't admit that Kenya has had the career she claims but one thing is for sure, that hair (hers or not) has always "looked" natural from her parts in the Whitney Houston throwback Waiting to Exhale to Martin and her many other roles.
Kenya has taken to instagram to "dig deep" into her scalp, debunking rumors undoubtedly, but also to bring you Moore! Kenya Moore! Her new line Moore Hair Care is about to launch and this is what she had to say.
"Hello #2015 to all my ladies who are frustrated with the health or length of their hair #moorehaircare products can help you achieve your hair goals. I now have waist length hair by using my own hair care products to strengthen and nourish your real hair so that it's stronger and can grow longer. Sign up at kenyamoore.com to receive samples when they ship next month. #moorehaircare available March 2015! #longhairjourney #naturalhair
noweave #realhair #allhairtypes #luxuryhaircare
So I've signed already up but there is still time for you to get your free samples as well at kenyamoore.com. HAPPY growing and Happy New Year.
J.Alea Jacobs FlawLessNBrown.Com