SHEAMOISTURE EXPANDS POPULAR SUPERFRUIT COLLECTION TO INCLUDE ANTI-AGING HAIR REMEDIES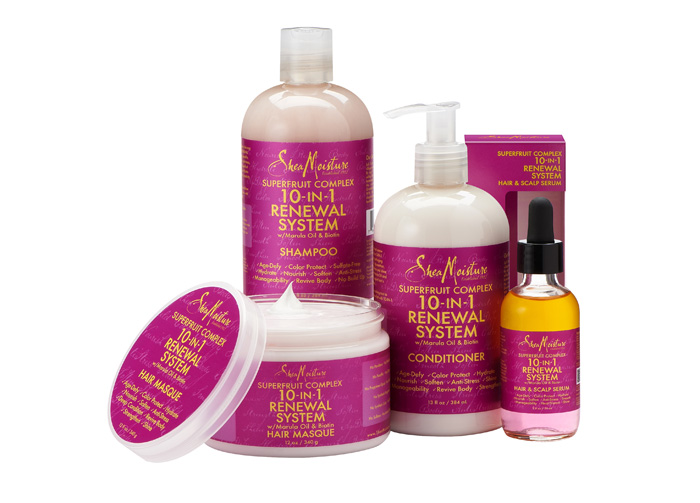 Introducing SuperFruit Complex 10-in-1 Renewal
[image: Inline image 1]
*Amityville, NY – July 2014 – *Are you forgetting your hair when it comes to your anti-aging regimen? Like skin, as it ages, hair can turn dull and lackluster. Restore vibrancy, hydration, texture and manageability with SheaMoisture's NEW *SuperFruit Complex 10-in-1 Renewal Haircare Collection*.
Available exclusively at Ulta locations nationwide starting Fall 2014, each 10-in-1 Renewal product contains certified organic and natural ingredients, and features 10 benefits for even the most tired hair: age-defy, anti-stress, color protect, hydrate, nourish, increase manageability, revive body and soften without buildup. The collection is sulfate and paraben-free.
The collection also boasts a proprietary blend of certified organic *Shea Butter* (with rich fatty acids to deeply moisturize); *SuperFruit Nutrient Complex* (a blend of Red Raspberry, Ketones, Goji, Acai Guava extracts rich in anti-aging antioxidants); Marula Oil (contains natural peptides that help support hair's elasticity); and Biotin (nurtures individual strands for thicker, stronger hair). When the whole system is used together, hair is instantly renewed, hydrated, soft, shiny and manageable. The collection includes:
SuperFruit Complex 10-in-1 Renewal Shampoo – Aids in protecting and renewing vibrancy to lackluster hair. Promotes a healthy scalp and provides gentle sulfate-free cleansing. SRP: $10.99;
SuperFruit Complex 10-in-1 Renewal Conditioner – Detangles, while providing color protection, intense moisture and manageability. SRP: $10.99;
SuperFruit Complex 10-in-1 Renewal Hair Serum – Gives hair a quick infusion of moisture. Hair instantly looks more vibrant and lustrous. SRP: $10.99;
SuperFruit Complex 10-in-1 Renewal Hair Masque – This intensive, antioxidant-rich treatment repairs dull, lifeless hair in a matter of minutes. Leave on between 5-30 minutes depending on hair's condition and damage. SRP: $12.99.
Products do not contain parabens, sulfates, phthalates, mineral oil, synthetic fragrance or artificial color. Color safe.
SheaMoisture's SuperFruit Complex 10-in-1 Renewal Collection will be available at Ulta locations nationwide in September/October 2014. For more information about SheaMoisture, please visit SheaMoisture.com.
About SheaMoisture: Since 1912, SheaMoisture has made its award-winning, shea butter-based skin and hair care products using family recipes handed down from founder and CEO Richelieu Dennis' grandmother Sofi Tucker, who as a young mother, sold her shea butter creations to support her family in Sierra Leone. Firmly committed to "A Better Way to Beautiful," SheaMoisture products are made with natural and certified organic ingredients, not tested on animals and do not contain parabens, sulfates, phthalates, paraffin, formaldehyde, mineral oil, petroleum or DEA. SheaMoisture ethically sources its shea butter from five co-ops in Northern Ghana.
--
I'sha Gaines, Founding Editor/CEO Photography/Social Media/Graphic Design/Marketing www.honeybenatural.com www.instagram.com/honeybenaturalmag http://www.instagram.com/honeybenatural www.facebook.com/honeybenatural 972.268.2196